Money Doesn't Destroy A Person. It Amplifies Them.
Hello my friends and family!
A few months ago God laid it on my heart that our Church was to be a Church on a mission and a Church that makes a difference. He also placed it in me a fresh desire to give more into missions. I set the overall goal to triple our giving into missions yearly. I'm so proud of our Church thus far. We've made excellent strides to get to that goal. In the first 27 days of January we have placed $891 into missions. Not to mention this being directly after the month of December where we gave $1,450 into various families in our communities in need for Christmas.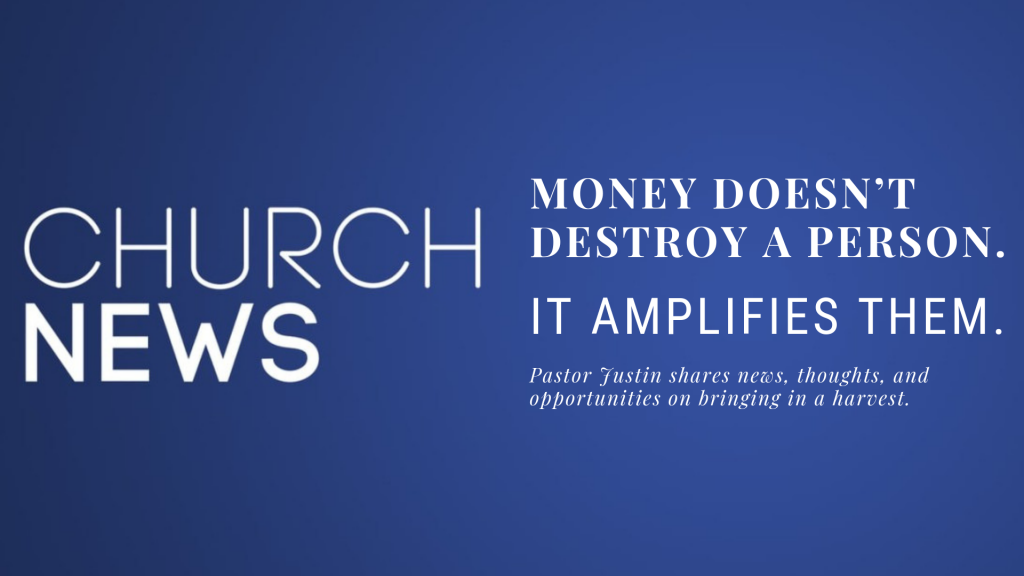 For the last 10 years of my life June and I have made it a point to be a blessing to God's Kingdom and to people through financial support. Even through times when we really didn't have much to give and at times had struggles making ends meet we always continued to make our giving a priority. I can remember times where I would give regularly at the Church I attended but still had a desire to be a blessing to other ministries. Even though I didn't have much left to give I still would write 2-3, $1-$5 checks per month and send them out. Today we're able to do more and it's one of the greatest joys of my life.
I have come to know that God is faithful to this promise:
2 Corinthians 9:10, "Now He who supplies seed to the sower and bread for food will supply and multiply your seed for sowing….."
I've seen God fulfill this promise in my life and I'm confident that He will do the same in yours. A few years ago I was going through great financial difficulty. But I refused to let that hinder me in my attitude towards giving into the Kingdom because I believed He would be faithful to His promise and He most certainly was. I am so grateful that I can give.
I truly love helping others and being a blessing to others. I also love missions. Missionaries go so many places that I can't go and touch lives that I'm unable to reach. And we are even all on a mission to some extent once you think about it. Some are just more passionate about accomplishing theirs than others. No matter the mission, to fulfill it will mean a sacrificial lifestyle to some degree.
One thing that stands out to me about many missionaries that I know is that they don't emphasize their struggles and trials when I speak with them but emphasize the goodness and the faithfulness of our Father. I love that! That's the perspective we need in life. The life of many of these individuals involve extreme trust in God to help fulfill the needs of their missions.
The following is a story of a friend that supports a missionary family monthly:
"My wife and I supported one missionary family by sending them $100 per month for many years. They never told us of their struggles, but only about the goodness of God. They spoke of God's hand of provision and how He was moving powerfully among the tribal people they served. After years of supporting them, I asked how many other people had been supporting them financially, and they told me for several years there was no one else. Then I remembered three or four months that we failed to send our monthly $100. When I asked them how they survived during that period, they said they had times of no food for themselves or their children. Yet, they praised God through it all."
Money does not destroy a person. It amplifies them.  If we're going to amplify something in life I want us to amplify the hearts of men and women with a heart for people and serve God faithfully day in and day out.  There's a quote that I printed on a missions donation box at my Church, it says, "Be the change you want to see in the world."  That quote is a reminder that the change I want to see starts with me.
I really believe in making a difference in people's lives and in this world. I've been blessed to meet and connect with people that I'm able to invest into and know it will bear a significant harvest. If you want help placing your investments where they will produce a great harvest please consider one of the links below or check out our missions section on our website. You may also contact us with any questions on the contact us section of our website.
Pastor John Garang, Children Are People, South Sudan, Africa. 
Middle Eastern Partnership, Peace Mission Ministries, Pakistan.
Women's Teen Challenge, Brandon, MS.
You may also give into any missions through the giving link below.
If you're apart of Brandon Assembly, we encourage you to continue to give into our missions box. We can make an impact together. For those that attend another Church Body, I encourage you to connect with the vision you're leadership has and be apart of that. Be an influencer for the Kingdom in this world. Be a blessing to other, and give love sacrificially.
Pastor Justin